German Faculty Member Holds a Workshop in ATU PLFL Faculty
04/10/2016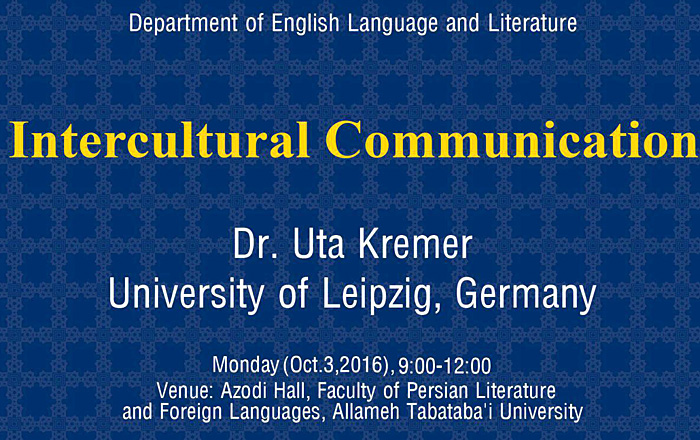 German Faculty Member Holds a Workshop in ATU PLFL Faculty
On Monday, 3 October 2016, Dr Uta Kremer visited Allameh Tabatabai Universitys (ATU) Faculty of Persian Literature and Foreign Languages to deliver a speech on the topic ofIntercultural Communication. This session, delivered as a topic-based lecture for ATU students, commenced a little after 9:30 a.m. at Azodi Hall with Dr Mostafaei Alaei, Head of the Department of English Language and Literature, introducing Dr Kremer to the audience.
Speaking to a number of ATU faculty members and graduate students, Dr Kremer, holding a PhD in Intercultural Business Communication between Germans and Americans, started her speech by referring to instances of miscommunication as a result of cultural differences between German and American nationals. Afterwards, she moved on to compare cultural differences in communication and lifestyle amongst various countries from all corners of the globe in the context of intercultural communication models, and, after a fifteen-minute break, allocated the rest of the speech to remarkable examples of the role of culture and art communication in the landscape of advertisement and commerce.
At the end of the session, Dr Kremer had a meeting with ATU faculty members where they cordially discussed various actions and efforts required for introducing the Iranian culture and background to the world as a step forward to bridging the cultural gaps.
Your comments and questions about our news are highly welcome at
ennews@atu.ac.ir
. Your emails will be answered as soon as possible.
Close
Search in ATU news archive
MORE NEWS
News Archive